Special Tribute
A tribute to Stevie Nicks and Chrissie Hynde
Stevie Nicks is always surprising us with her musical collaborations. From Tom Petty to Don Henley to Sheryl Crow and many more highly acclaimed musicians. Her highly anticipated 24 Karat Gold Tour began with another surprise artist joining her on stage in her hometown of Phoenix AZ. During the early half of her show, she brought out her longtime friend Chrissie Hynde to help her sing "Stop Draggin' My Heart Around". The crowd went wild as Chrissie took the Tom Petty vocal lead to another level that left the audience wanting more. Needless to say, the two ladies wanted more too—so they decided to hit the road together and tour across North America.
As a member of Fleetwood Mac, Stevie has performed around the world to sold out shows for decades, as well as winning the Grammy for their Rumours album. The magic didn't stop with Fleetwood Mac's success as Nick's solo career proved to be just as strong. She has released multi-platinum albums, as well as being dubbed the "queen of rock and roll" by Rolling Stone Magazine, with 6 top 10 albums and 8 Grammy nominations. Her crowning validation as a rock and roll icon was apparent when she became the first woman to be inducted twice into the Rock & Roll Hall of Fame. With Fleetwood Mac in 1998 and again in 2019 for her solo work.
Chrissie Hynde of the Pretenders was raised in Ohio in the 60's where she developed a rebel taste for rock music. Hynde formed The Pretenders in the late 70's in London at a time when it was unusual for a woman to play guitar and lead a hard rock and roll band. The band put out a string of hit records and Chrissie became a symbol of female power. The Pretenders blend of punk, new wave and top 40 pop with hits such as Back on the Chain Gang, Don't Get Me Wrong, I'll Stand by You and of course their 1979 rock anthem "Brass in Pocket" put the band on the rock and roll map as one of the most recognized in rock music history. The Pretenders have sold over 25 million albums and lead singer and founder Chrissie is one of the most respected songwriters in the business. Chrissie also released a memoir in 2015 "Reckless: My Life as a Pretender."
Chrissie Hynde and Stevie Nicks couldn't be more different. But together, they are a dynamic team that have proven that opposites really do attract. Taking into consideration their incredible music careers as fronting two of the most beloved rock bands in history--they have shown the world that two ladies in their 60's can still rock just as hard as anyone.
Julia Lawrence as Stevie Nicks and Karen Hart as Chrissie Hynde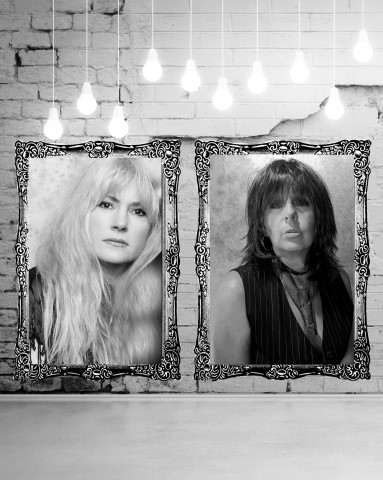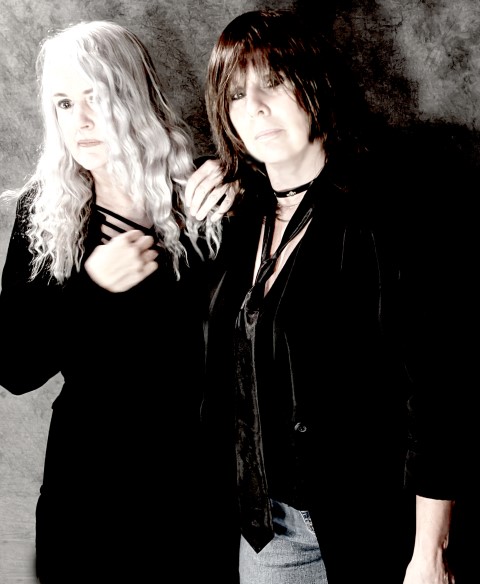 When chatting about The Pretenders and Stevie Nicks, they recalled that Stevie Nicks and Chrissie Hynde had toured together during Stevie's 24 Karat Gold Tour. The tour officially began on October 25, 2016 in Phoenix AZ at the Talking Stick Resort Arena and concluded on November 24, 2017 in Dunedin at the Forsyth Barr Stadium, lasting over one year.

Knowing the success of the Stevie Nicks/Chrissie Hynde combination, Karen and Julia knew that Vinyl Vixens was destined to expand their show to not only showcasing a variety of rock hits from the 60's through today, but also including a unique tribute show featuring the music of Stevie Nicks and the Pretenders.